Titan Digital Signage Project
As part of the Division of Information Technology's Strategic goal of implementing technologies to proactively communicate with and engage the campus community, IT will commence an ongoing effort to install outdoor and indoor digital signs and wayfinding maps.
The content of the digital signage will be dynamic, pertinent to community of users of the area that the signage is installed in, and controllable by the academic and administrative units of those areas.
Frequently Asked Questions
What is the Titan Digital Signage project?
The Titan Digital Signage project is part of a campus-wide effort to align with the University's 2018-2023 Strategic Plan (Goal 1) of enhancing the Titan Experience, including student participation in events, student pride, and connection to the university. The project also supports IT's Strategic Plan goal of enhancing the distribution of digital educational content.
What is the funding source for the Titan Digital Signage project?
No student fees were used. The project is paid for by a contract with Sprint. No budget was taken away from general funds (money from the legislature.)
Is Sprint advertising on the signs?
No, the details of the agreement are:
History
The Federal Communication Commission (FCC) established the Instructional Television Fixed Service (ITFS) service in 1963 to be used for transmission of instructional material to accredited public and private schools, colleges, and universities for the students. The bandwidth licenses in the 2500-2690 was set aside for educational use only.
CSU Fullerton acquired FCC licenses to transmit educational broadcasts. CSU Fullerton joined four other FCC licensee southern California CSU campuses, CSU Long Beach, CSU Dominguez Hills, CSU Pomona, to form a coordinated consortium called  CALNET. 
In 2018, the CALNET Consortium and CSUF re-negotiated our lease agreement to provide a one time increase of one million dollars to launch the digital signage project.
The FCC allows the leasing of unused channels to third parties as long as the minimum broadcasting of educational content transmission is maintained. The revenue generated from the lease agreement with Sprint/CALNET funds the Titan Digital Signage Project. 
What is the timeline?
Phase 1 Deployment:
Four large outdoor displays on exterior building walls
Five 85" outdoor displays on Titan Walk and the Promenade
Twenty 75" indoor displays in academic building lobbies
Twenty wayfinding maps
What are some key benefits of the Titan Digital Signage?
Distribution of digital educational content
Up-to-date content generated by Colleges, Divisions, and Departments
Livestream of Titan TV and campus events
Timely campus-wide emergency notification
Timely distribution of  information such as class schedules
Who controls the messaging on these signs?
Colleges, departments and divisions.  For access requests to the Carousel system, please submit your request with Dean / Manager approval to your respective area to helpdesk@fullerton.edu or via Helpdesk Call Center (657) 278-7777
What are the additional costs involved with powering and maintaining these signs?
The costs to operate and maintain the Titan Digital Signage will be funded through the agreement with Sprint/CALNET.
When will all the signs be operational?
Most of the signs are up now, the rest will be up by the end of the Fall 2019 semester.
How will these signs be deployed in the event of a campus emergency?
The Division of Information Technology (IT) and the University Police Department have developed protocols in the event of an emergency.
How do we get our events and activities publicized on these digital billboards?
To submit content for display on the outdoor 85" digital signs and Planar walls, please email your 1920 px by 1080 px graphic as an attachment to helpdesk@fullerton.edu with the following information:
Start and end date for your sign to be displayed in a two week calendar period
List of  outdoor displays (Titan Walk, Promenade, Titan Gym outdoor) where you would like to post your sign
Please ensure that your graphic is ATI compliant prior to submission
Requests are reviewed and approved by University Advancement and Division of IT.  Please allow time for review and approval.
For access requests to the Carousel system, please submit your request with Dean / Manager approval to your respective area to  helpdesk@fullerton.edu  or via Helpdesk Call Center (657) 278-7777
---
Titan Digital Signage Standards and Guidelines
The standards and guidelines comprising the Titan Digital Signage Standards and Guidelines apply to all digital signs at Cal State Fullerton that are owned and operated by academic or administrative units.
The Division of Information Technology will develop standardized channel layouts for all Digital Content Contributors. User readability will be maintained between buildings and monitors.
Digital Signage content must adhere to Cal State Fullerton visual and content standards. Please refer to

 

CSUF Brand Central  for the university's brand guidelines.
Digital Content Contributors will be able to edit the main content that appears on pre-determined zones of each channel.
Twitter zones automatically display content from the Twitter pages of Cal State Fullerton (@csuf), President Fram Virjee (@TitanPrezVirjee), Cal State Fullerton Athletics (@FullertonTitans), and the University Police Department (@csufpd). 
All announcement bulletins posted to the 85" displays, lobby displays, and Planar wall displays should be 1920 px (width) by 1080 px (height). TSU Planar Main Display dimensions should be wide banner format 1024 px (width) by 384 px (height), the TSU planar also offers a smaller 256 px (width) by 192 px (height), so please submit downsized copies if you wish to display on the TSU Planar small right panel.   Submit all requests to the Helpdesk at helpdesk@fullerton.edu 

The 

CSU Accessible Technology Initiative

 

(ATI) is the effort by the California State University (CSU) system to ensure that information and communication technology (ICT) is accessible to all students, faculty, staff, and the wider community. To ensure that your digital signage content is ATI compliant, please refer to the

 

 

ATI website.
Option 1
Option 2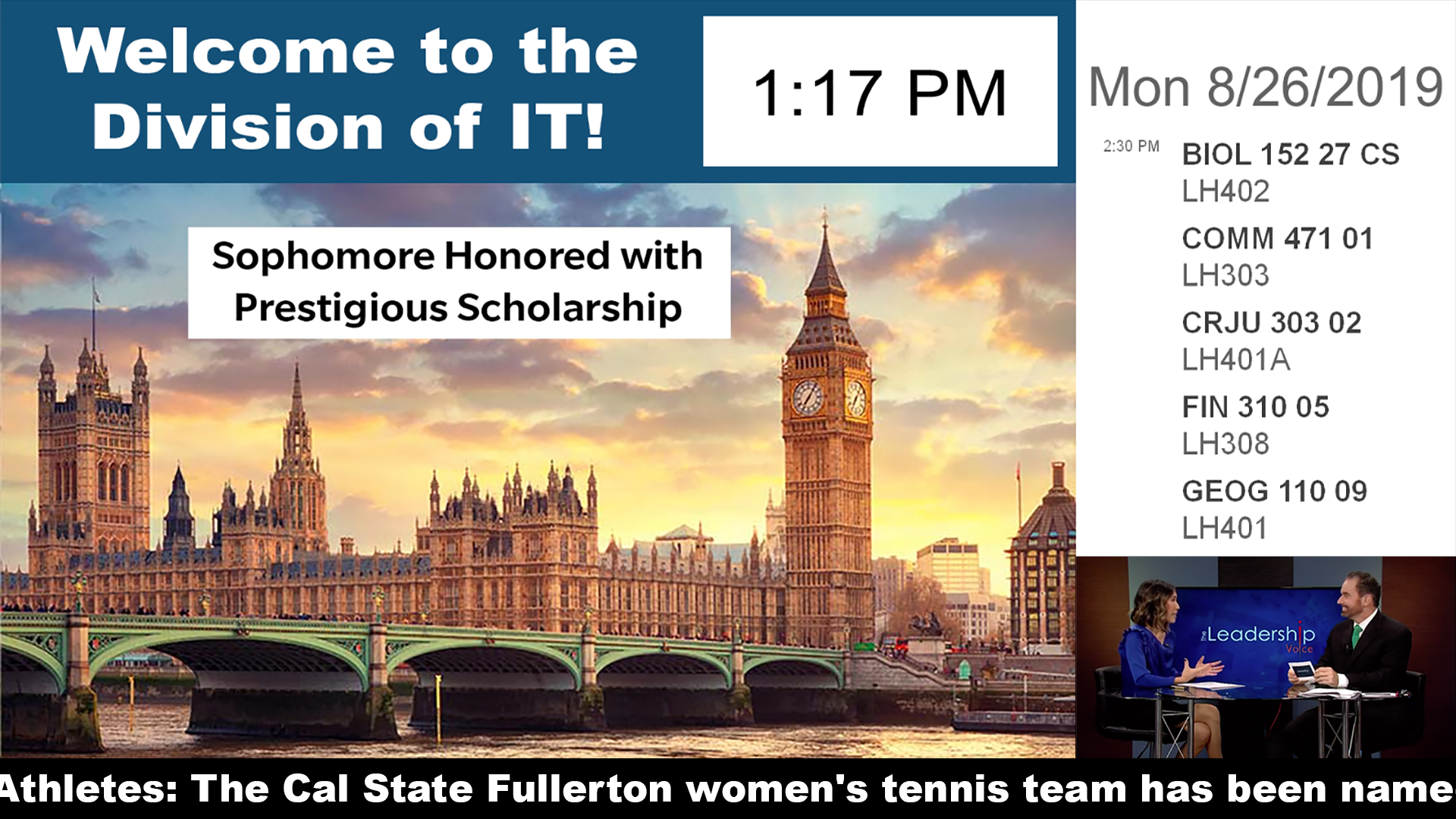 Option 3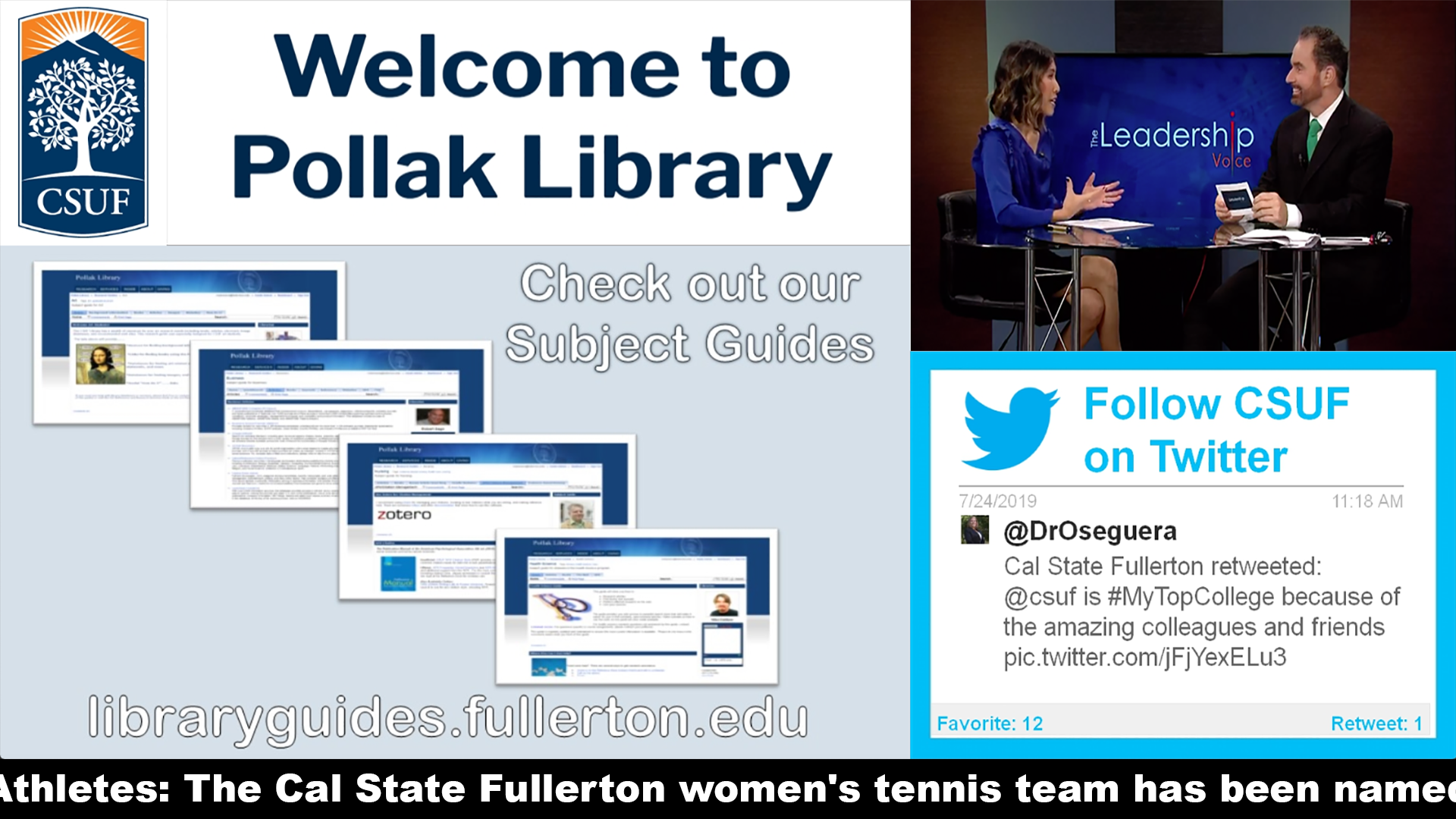 Option 4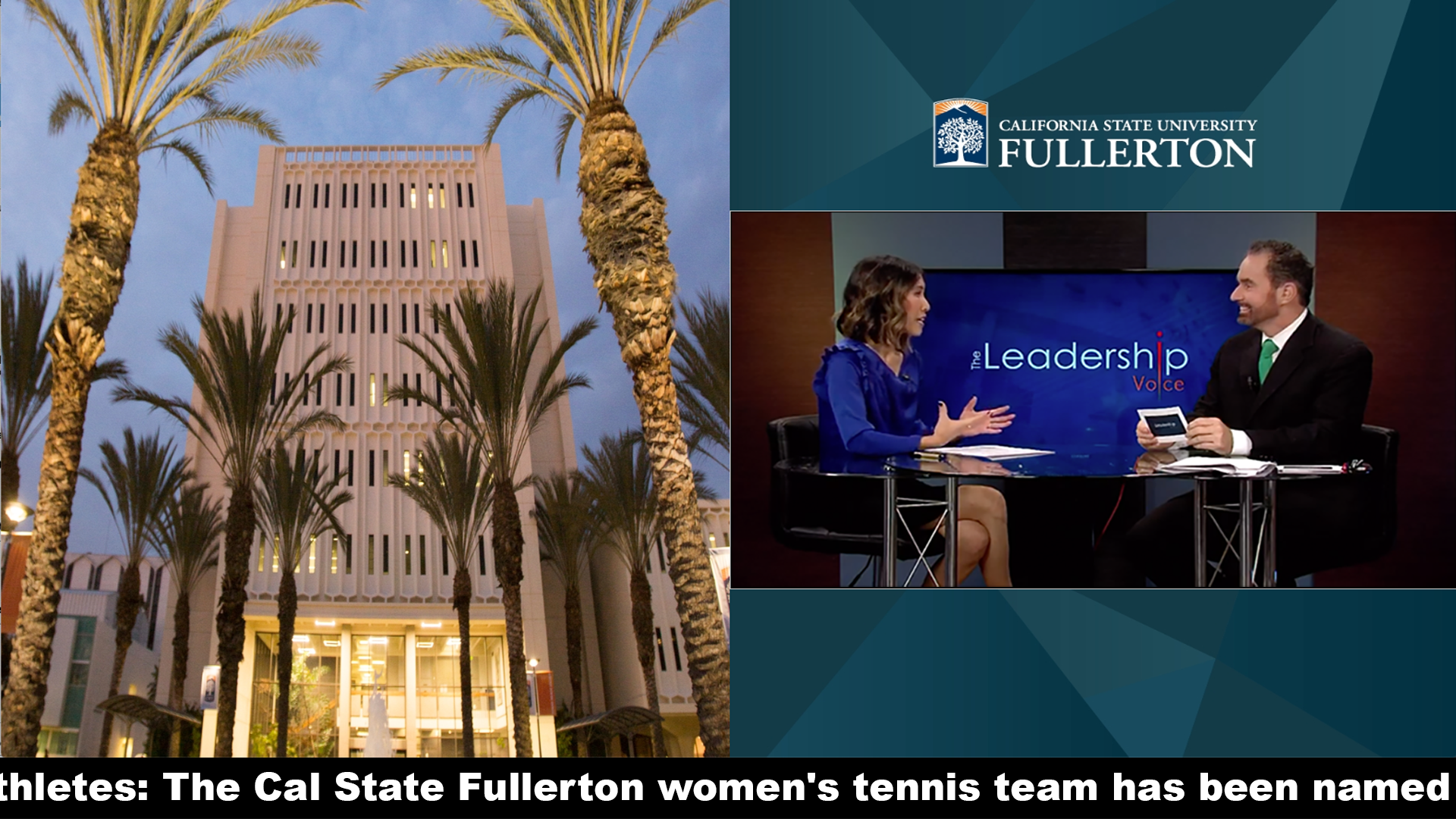 Wayfinding Maps
In addition to digital signs, indoor and outdoor digital touchscreen displays will be deployed to assist with campus navigation. Note that the Titan Digital Signage system is NOT used to manage wayfinding displays. These displays are managed by the Division of Information Technology using another system.