Message from the Chair, Dr. Merri Lynn Casem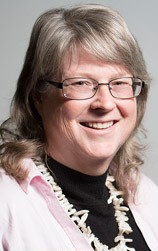 Welcome to the website of the Department of Biological Science at Cal State Fullerton. We offer an undergraduate Bachelor's degree (B.S.) in Biological Science and a thesis-based Master of Science (M.S.) degree in Biology. 
We are dedicated to educating the individual student using active-learning, inquiry-based approaches. The undergraduate curriculum provides all biology majors with broad exposure to fundamental biological principles and depth of knowledge within a specialized area of concentration chosen by the student.
Our program is distinctive in the region in the number of excellent opportunities that are available for faculty-mentored undergraduate research and a commitment to integrating teaching and research. Our mission is to help guide students to acquire the skills, develop the attitudes, and master the information necessary to continue their education, obtain desirable employment in biology-related careers, and be productive citizens. 
Our graduate degree prepare students for entry into Ph.D. and health-professions programs, research careers with governmental and non-governmental agencies and in the private sector, and teaching at the two-year college level.  
Contact Us
Email: biolsci@fullerton.edu
IMPORTANT INFORMATION 
Biology courses will be taught in fall 2022 as in-person but some courses are taught in virtual format or mixed virtual and in-person format. 
For virtual instructions, please confirm with the instructor whether your class will be meeting synchronously or asynchronously at the days and times shown in the class schedule. 
Major Advising for first semester freshman will be virtual. An email will be sent to your CSUF email account with important information about advising and registration. Go to the College of NSM's website for First Semester Freshmen for more information
New Transfer students need to sign up for a virtual advising session. An email will be sent to your CSUF email account with important information. Go to the College of NSM's website for Transfer Students for more information